LA BELLE RONDE
AN OASIS IN THE HEART OF PARIS
La belle ronde is a crêperie with an original, modern and warm decor. It is located in a green and quiet interior courtyard overlooking the lively market on rue Daguerre. You can relax on the terrace in the shade of the magnolia during summers or enjoy our homemade chocolate on the veranda during winters.
The crêperie offers a traditional menu as well as many creative recipes inspired by Italian, Indian or Mexican cuisine.
Everything is home cooked with vegetables from the market and produce of organic or artisanal origin for the most part. Our flours are organic. Our buckwheat dough is naturally gluten-free and our wheat dough is made with extra fresh organic eggs. All is done for you to enjoy your meal in a pleasant and relaxed atmosphere.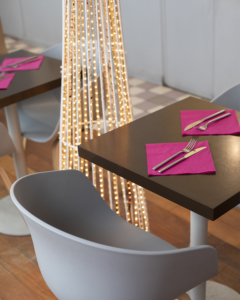 Crêperie La Belle Ronde
19 Rue Daguerre, 75014 Paris
+ 33 1 43 20 20 79
Open daily from 12:00 p.m. to 11:30 p.m.
Reservation, by phone, only for groups of 5 or more people
Contact us
Any questions ? We will be happy to answer!
19 Rue Daguerre
75014 Paris